Filter by Category
Health & Wellness
Proper Pruning of Apple Trees
with Paula Kovecses

Apr 21, 2018 at 1 pm

, runs for 1 week
Proper Pruning of Apple Trees - This workshop will start with a slide presentation that includes proper cuts, rejuvenation, morphology, and maintenance of both existing and new fruit trees. Concentration on apples will be the focus although all fruit tree discussions are welcome. Bring your tools, dress appropriately, and learn the proper way to prune!
This pruning workshop will start with a slide show presentation of proper pruning techniques, and rejuvenating and maintenance of fruit trees to produce healthy delicious fruit.
We will also talk about other fruit trees based on the group's interest and questions.
Please dress appropriately for being outdoors during the pruning segment of the workshop with warm layers, boots, hat, and gloves recommended. You can bring your own tools to participate in pruning.
Instructors Paula and Laszlo Kovecses are owners of The Way It Grows (TWIG) in Eastport, Maine (and former owners of TWIG Horticultural Consulting LLC in Concord, NH). TWIG is an organic sustainable landscape design, consulting, installation and maintenance company. Paula has a degree in Horticulture, and is an Accredited Organic Land Care Professional and a Maine Certified Sustainable Landscaper. She also holds a Permaculture Design Certificate, and educates with talks, walks, classes, and workshops.
For more information call Axiom Education & Training Center 207-255-4917 or email classes@connectwithaxiom.com.
Garden/Landscape Design Workshop
with Paula Kovecses

Mar 17, 2018 at 9 am
Learn how to design the garden of your dreams from start to finish using organic methods. From soils to plants, design to maintenance, this workshop is sure to inspire and incite.
Instructor Paula Kovecses is a horticultural consultant with certifications including AOLCP (Accredited Organic Land Care Professional) and MCSLP (Maine Certified Sustainable Landscape Professional) among others. In addition to landscape consulting, design, installation, and maintenance services, Paula's company T.W.I.G. (The Way It Grows) differs from other companies in the emphasis on native and organic strategies. Paula and her husband, Laszlo, want to provide educational outreach for sustainable gardening and Permaculture.
Gardening experience preferred.
Saturday, March 17th 9a-4p
Students will need to bring a notebook and pen or laptop for notes. Other materials TBD provided by instructor.
Dress appropriately as there will be some time spent outdoors looking at the landscape of the high school.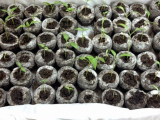 Seed Starting
with Paula Kovecses

Feb 24, 2018 at 1 pm
Seed Starting - Want to learn to start seeds for your vegetable or flower gardens? This workshop will get you on the right track for successful seed starting. Bring your own containers (egg cartons, yogurt cups, small planting pots), we will supply the soil and the seeds.