Homestead, Farm & Garden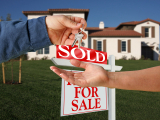 Registration Unavailable
First Time Home Buyer's Class
with Heather Massow

May 20, 2017 at 8:30 am
, runs for 1 week
hoMEworks homebuyer education classes provide an opportunity to learn about the home buying process in a neutral environment. Buyers who have taken home buying classes are more confident when asking questions and making decisions about homeownership and loan products. Education gives buyers the tools they need to avoid predatory lending and possible foreclosure.
Buying a home is exciting, and it can also be a bit overwhelming - there's a lot to learn! Studies show that people who complete a homebuyer education course are better prepared as buyers and more successful as homeowners. In many cases, completion of a homebuyer education program is necessary in order to be approved for a mortgage.
Instructor:
Heather Massow, Certified Housing Counselor and Educator, has worked with Penquis for more than nine years. Heather currently works with clients who are facing foreclosure, teaches homebuyer education classes and works one-on-one with pre-purchase clients helping them become credit-ready to purchase a home. Previously, she worked in the mortgage banking industry for about 14 years processing, originating and closing loans. Recently Heather joined the board of the Bangor chapter of Habitat for Humanity and is on the Family Selection Committee. Heather especially enjoys working with her foreclosure clients and finds the process rewarding. In her spare time, you will most likely find Heather riding her Morgan horse Magic or doing anything horse-related.
- See more at: http://www.mainestreamfinance.org/feed.php?num=3&news_id=148&feed_id=51#sthash.rVV03v55.dpuf
All day workshop, Saturday, May 20, 8:30am-6:30pm.
Bring lunch and snacks, if desired.
Fruit Tree Pruning
with Paula Kovecses

Apr 1, 2017 at 1 pm
, runs for 1 week
This pruning workshop will start with a slide show presentation of proper pruning techniques, and rejuvenating and maintenance of fruit trees to produce healthy delicious fruit.
We will then venture outside for a hands-on pruning session using the 100+ year old apple trees at the new Sunrise County Economic Council's office at 7 Ames Way (next to the Grange Hall in Machias).
We will also talk about other fruit trees based on the group's interest and questions.
Please dress appropriately for being outdoors during the pruning segment of the workshop with warm layers, boots, hat, and gloves recommended. You can bring your own tools to participate in pruning.
Instructors Paula and Laszlo Kovecses are owners of The Way It Grows (TWIG) in Eastport, Maine (and former owners of TWIG Horticultural Consulting LLC in Concord, NH). TWIG is an organic sustainable landscape design, consulting, installation and maintenance company. Paula has a degree in Horticulture, and is an Accredited Organic Land Care Professional and a Maine Certified Sustainable Landscaper. She also holds a Permaculture Design Certificate, and educates with talks, walks, classes, and workshops.
For more information call Axiom Education & Training Center 207-255-4917 or email classes@connectwithaxiom.com.
Course will run